MORE TRAFFIC. MORE LEADS. MORE SALES.
Social Media Marketing: Make Connections that Make Sales
If you're not on social media, then you are
WHY INVEST IN A PROPER SOCIAL MEDIA STRATEGY?
is the amount of time your customer spends on social media each day.
We all know that having a brand presence on social media is really important. People are spending more and more time on Facebook, Instagram, Tik Tok, etc. However, not all social media strategies are created equal. The right social media strategy can do the following for your business:
Increase Referral Business – social can make it easier for current clients and others to refer business to you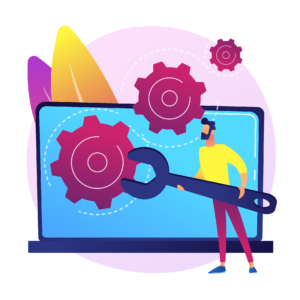 Provide Excellent Customer Service – It's a great way to keep in touch with current customers and provide stand out customer service
Improve your SEO – Social Media and SEO have a strong positive relationship.
Increase Trust – Become an industry 'go-to' by providing useful content on a regular basis.
Increase Sales Funnel Activity – Make it easier for NEW prospects to find you.
By investing in the right social media strategy you can meet your prospects and clients where they already are and build a relationship of trust, loyalty, and ultimately sales.
Improve your social media presence with a
ROADMAP FOR SOCIAL MEDIA SUCCESS
Whether you're already doing Social Media or you don't know where to start, we've got a proven formula for Social Media success.
The more followers you have on your social networks, the higher the chances of word of mouth and referrals. We'll grow your audience with people who match the demographics, interests, and behaviors of your typical customers.
Customers love brands that engage with them. When your audience trusts you, they are more likely to convert (buy, refer, etc.). Engaging your followers takes meaningful, well-thought-out, and relevant content. We'll get your social media posts more engagement.
More website traffic means more chances to convert. Call-to-action social media posts are often boosted with advertising so that we can get your website in front of more people. We'll also target visitors who didn't convert and lure them back to complete the process.
Boost ecommerce sales by linking your social media accounts to your ecommerce setup. Your customers will be able to access your products and services directly from your social media channels, where you can promote your products.
Social Media Services That Fits Your Needs
Is your social running at full potentiaL?
Get a Free Social Media Audit
Curious how you stack up to competitors? Find out where you stand and how you could improve performance.